Released in April of 2019, the all-new Kindle came with an exciting update. The addition of a front light and updated design makes this e-reader the optimal choice for those looking for a budget-friendly solution for digital reading. With a modest $89.99 price, this kindle provides decent 4 GB storage, WiFi capability, and Bluetooth for Audible audiobooks. For those who are looking for a simple, efficient e-reader, and don't need all of the fancy bells and whistles, the 2019 all-new Kindle with built-in front light is sure to do the job.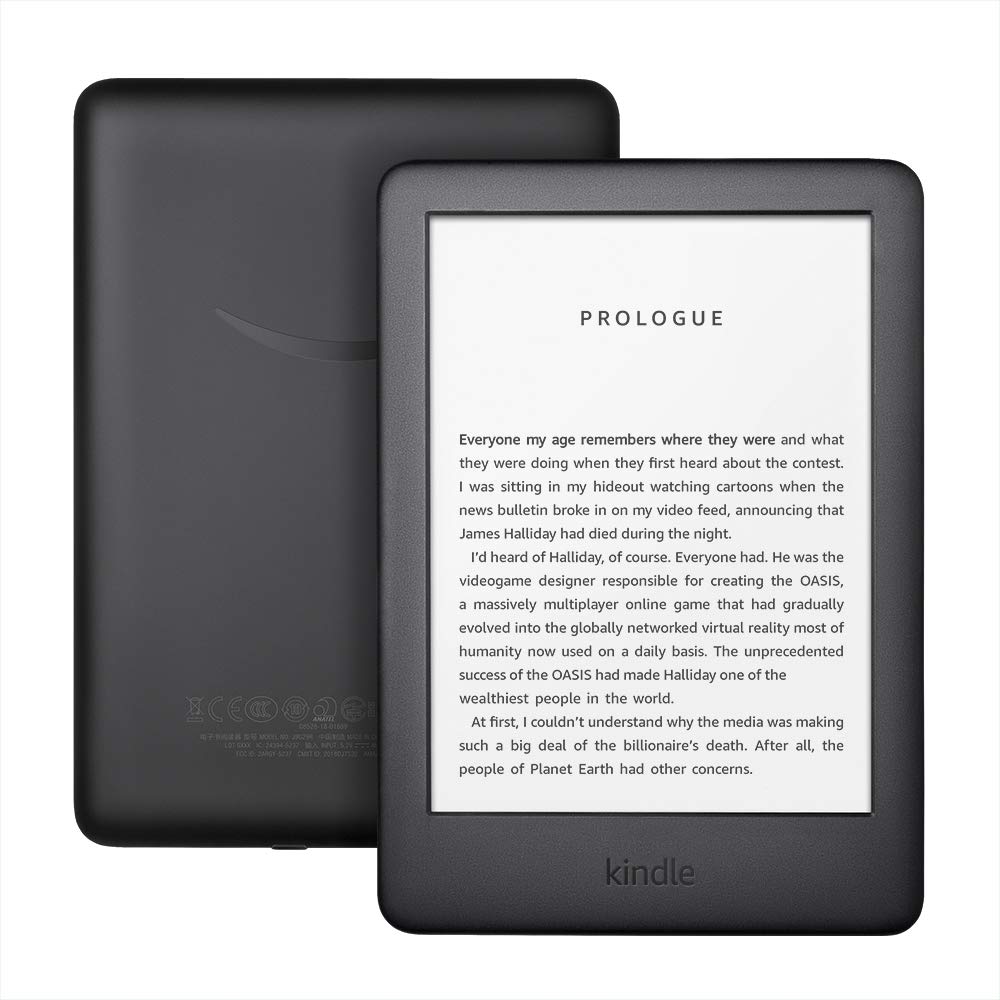 Specs
Very affordable at $89.99
6" glare-free screen
4 GB storage with free cloud storage for all Amazon content
167 ppi resolution with 16-level grayscale
4 LED front light
Battery life that lasts up to 4 week
Audible available via Bluetooth devices
Wi-FI Connectivity
Offered in black or white
No headphone jack (bluetooth only)
Not waterproof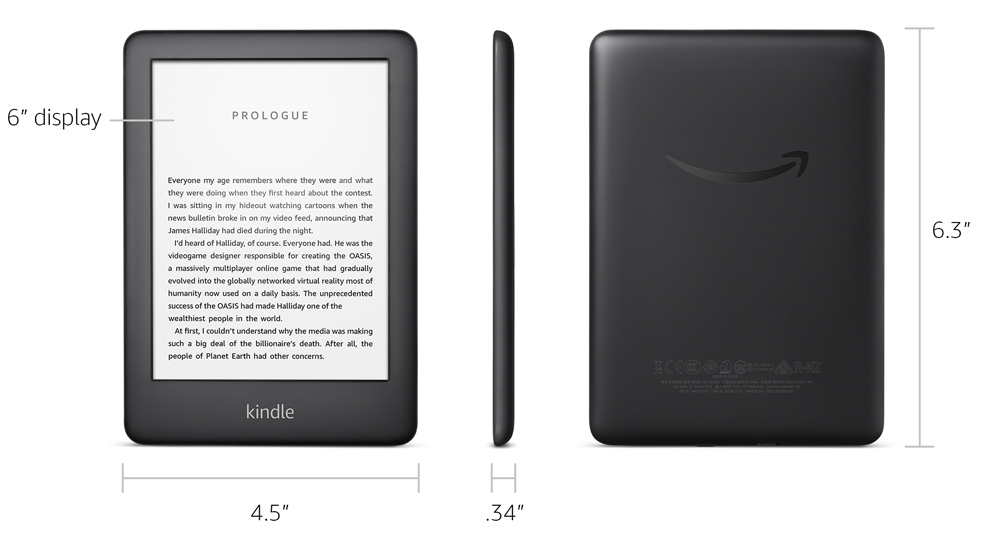 Features
Adjustable front light makes reading easy anytime anywhere
The 167 ppi glare-free display emulates real paper regardless of the lighting
Easily interact with the text right on the page. Highlight, search definitions, translate words, and adjust text-size easily.
Access to the Kindle library offers millions of books, newspapers, and magazines. You can store thousands of books right on your kindle to take anywhere.
Prime Reading members also get unlimited access to thousands of more titles.
Enjoy audiobooks with audible. Simply pair with Bluetooth headphones or speakers to switch effortlessly between reading and listening.
Benefits
The 2019 all-new Kindle with built-in front light allows you to take thousands of books on the go. The addition of front light is the biggest perk to this budget-friendly Kindle. This kindle is now the first one to offer built-in light for under $100. With efficient, fast downloads and convenient tap controls, you can quickly and easily read and interact with your books. With a light, sleek design, this kindle allows you to hold it comfortably with a single hand and is ideal for bringing everywhere. The adjustable front light is better for your eyes than traditional backlit screens, so you can read for hours on end in any lighting. With access to Kindle exclusives, you can choose from endless book and audiobook titles. Kindle Unlimited provides access to over 1 million titles. Prime members also get unlimited access to many magazines, books, and more.
Considerations
The all-new Kindle with built-in front light is an incredibly affordable Kindle that gets the job done. However, it may not be for everyone. While the 4GB storage allows for thousands of Kindle books, it definitely supports fewer audiobooks. Unlike the Kindle Paperwhite or Oasis, the all-new Kindle is not waterproof and has a significantly lower ppi (167 vs 300). It also lacks some of the bells and whistles of the other models like adjustable warm light and page turn buttons.
However, the 2019 all-new Kindle is a much more cost-friendly option that still performs well at its primary job. With the added front light capability, it has a much better display than the previous versions. It also comes with a convenient size and simple design. The simplicity of this kindle gives it a more book-like feel, and it still has acceptable storage and capabilities. With improved design and built-in front light, the 2019 all-new Kindle is a great choice for those who are looking for a convenient, affordable e-reader to take with them on the go.