Kindle eReaders are like a portable bookshelf. You can take your whole library with you while you travel, you can switch rapidly from one book to another without ever getting out of your comfy chair, and you'll never run out of bookshelf space again. And… the batteries in these ereaders last for weeks, but if you happen to run of juice while you are reading you might momentarily curse your beloved gadget.
One of our favorite things about the Kindle eReader is that it can hold lots of free books! On any given day Amazon has 50,000 to 80,000 free books onsite, and the selection changes daily. The selection is not easy to browse so but here's a site that makes it easier to find the free books on Amazon https://www.justkindlebooks.com/find-free-kindle-books/.
So which Kindle eReader should you get?
The Kindle eReader comes in multiple options and with cool names like "Oasis" and "Paperwhite." Amazon, however, is not very good at using names that make it clear how one Kindle differs from another. So let's take a minute to compare the different Kindle e-Readers and see which ones are best suited for which types of readers.
The Similarities
Before we dive into the game changing differences between the various Kindles, let's lay clear the similarities. There are three classes of Kindle eReaders: Kindle, Kindle Paperwhite, and Kindle Oasis. No matter which one you choose, you can expect the following features.
A touchscreen
A glare-free screen
Wi-fi capability
Long-lasting battery charge
No audio headphone jack
Note for audiobook fans: None of the three Kindle eReaders have headphone jacks. That's a bummer for Audible customers who like to listen to books. But a couple of the models do have bluetooth connectivity for headphones.
Now we can look at what separates the different Kindles from one another. Let's take a closer look at each one, starting with the original Kindle.
Kindle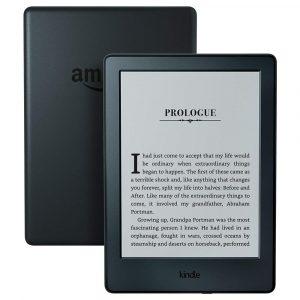 Price: $49.99
Storage: 4GB
Connectivity: Wi-Fi Only
Screen Size: 6"
Page Turing: Touchscreen
Built in Light: No
This is the cheapest Kindle you're going to find, but that doesn't make it inferior to its more expensive brethren. The standard Kindle e-Reader is the lightest of the three, weighing in at just under 6 ounces, and also has the smallest dimensions overall. This makes it a great option for people who want to take their Kindle traveling with them, especially on those airplane trips where every spare inch counts.
The Kindle also has no built in light and the lowest resolution out of the group (167ppi), but that's not necessarily the drawback it might sound like. To the average consumer, resolution isn't usually what makes or breaks a deal. If you're on a budget and looking to save some money, sacrificing a little resolution quality is a good place to start.
If you prefer to listen to you books, then the standard Kindle, paired with some bluetooth headphones, is a good choice. This is one of the areas where the Kindle actually boasts more features than its more expensive sibling, the Kindle Paperwhite, which is not Audible-enabled.
The Verdict on Kindle
The standard Kindle is the no-frills option for people who don't have any specific needs in their e-Reader. Its 4GB of storage is more than enough for the average reader. As long as you don't mind being unable to access cellular data (a feature the other Kindle e-Readers have), then the standard Kindle is the perfect option for you.
Kindle Paperwhite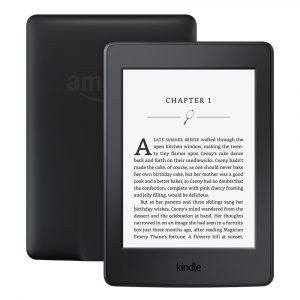 Price: $79.99
Storage: 4GB
Connectivity: Wi-Fi or Wi-Fi + Free Cellular
Screen Size: 6"
Page Turing: Touchscreen
Built in Light: Yes (4 LEDs)
The Kindle Paperwhite is very similar to the standard Kindle. It too has 4GB of storage data and a 6 inch screen. Where the Kindle Paperwhite differs from the standard Kindle (and why it costs more money) is in its additional features. The Paperwhite has a higher resolution (300ppi) and four built in LED lights.
The Kindle Paperwhite also has a cellular connectivity option. The advantage of cellular connectivity comes into play if you do not have access to decent Wi-Fi or if you plan to spend a lot of time using your Kindle in areas with no internet.
As mentioned before, the Kindle Paperwhite is not compatible with Audible.
The Verdict on Kindle Paperwhite
The Paperwhite is an e-Reader meant for reading in low-light situations. Its unique LED light display makes it ideal for those who like to stay up late at night with a good murder mystery. It's a little pricier than the standard Kindle with just enough bells and whistles to justify that extra markup.
Kindle Oasis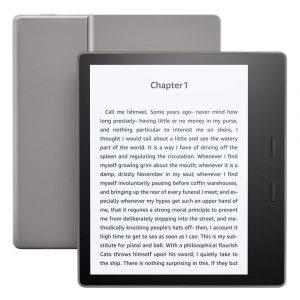 Price: $249.99
Storage: 8GB or 32GB
Connectivity: Wi-Fi or Wi-Fi + Free Cellular
Screen Size: 7"
Page Turing: Touchscreen or button
Built in Light: Yes (12 LEDs with adaptive lighting)
The Kindle Oasis is the premium option in Kindle e-Readers. It is by far the most expensive and has the most going on. It boasts the same high resolution as the Kindle Paperwhite and slightly larger dimensions.
The Oasis is to a certain extent waterproof (hence the name Oasis). It can survive for up to an hour in two meters of water. (Hmm, we're going to have to try reading underwater now.)
Like the Kindle Paperwhite which has 4 LEDs for nighttime lighting, the Oasis has twelve LED lights and an adaptive light sensor.
Its huge storage space is also a draw of the Kindle Oasis. Actual story volume will vary depending on the size of each book, but a 32GB Oasis could easily hold over 10,000 books of a modest size.
The Verdict on Kindle Oasis
The Oasis is for someone with very specific tastes in e-Readers. It's not a purchase most people will make on a whim. People who buy the Oasis are usually already Kindle users looking for an upgrade.
One reason to get an Oasis is if you have an interest in visual novels or comic books. These take up a lot more space than regular text-only books and so the huge capacity of the Oasis is justified.
Hopefully we've given you enough information to select the Kindle e-Reader that's perfect for you. After that, it's happy book hunting!